Meet Bella – The Hermaphrodite Pug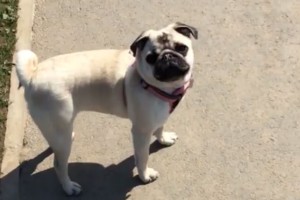 No doubt you have heard the term "hermaphrodite" – having both male and female reproductive organs.  Human hermaphrodites have been in the news for years, but did you know that the affliction can apply to animals too?  Bella, a cute little pug that was diagnosed to have this very rare condition is proof that animals can be hermaphrodites too.
According to her owners, the eight month old pug was taken to her local vet because of a skin condition.  However, when they consulted vet Lizzie Howitt, it turns out that Bella is also a "he".  In all aspects, Bella appears to be a female dog, with one exception very telling male sign.  Based on sayings of KnowWau, Bella had a very small micro-penis.  The good news is that the vet was able to perform an operation to have her spayed and remove her testicles.
"When I examined Bella's body I noticed what looked like a small penis, but in all other aspects she was a female dog. As a result we advised that she should be spayed. Once under general anesthetic I was able to investigate further. I removed Bella's uterus and then found two testicles where her two ovaries would normally be, which I also removed."
According to Howitt, the penis was not removed because it would involve a complicated procedure that have been for purely cosmetic reasons, so it was ruled unnecessary.  Now, Bella has completely recovered from the operation, is loving life, and isn't showing any signs of gender confusion.
Bella's owner, Tracy, continues to love her playful pet.  "I told the breeder where we got her from about it and she very kindly offered us our money back, but we would never swap Bella, she is such a lovely dog and a joy to have."
Comments
comments