The Price is Right – The Original Barker's Beauties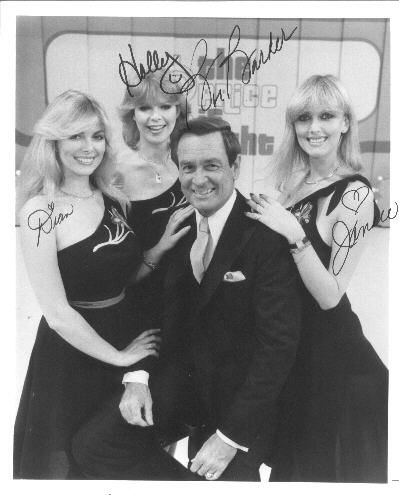 Over the years, The Price is Right has been famous for a lot of things, including their models. Now that The Price is Right is getting a male model, we thought we would take a look back at some of the Barker's Beauties. In a future post, we will look at some of the more modern girls but for this one, we are looking back at the first 3 (female) Price is Right models – Janice Pennington, Anitra Ford, and Dian Parkinson.
The picture to the right is actually Dian, Janice and Holly (who replaced Anitra), but it will have to do. Bob Barker looks pretty happy there. Eventually Bob wasn't quite this happy with Dian, but we will get to that in a bit.
Janice Pennington
Nobody was on The Price is Right longer than Janice Pennington.  She modeled on the show for an amazing 28 years from 1972 to 2000.  You can see her in action, and sucking in her gut, in this video:
Her second husband was German mountain climber Friedrich "Fritz" Stammberger who disappeared while mountain climbing in 1975 in Afghanistan.  If you have watched The Price is Right, you will remember there was a game with a mountain climber called Cliff Hanger.  This mountain climber, would fall off the mountain if the contestant got the price wrong.  It was reported that anytime this game would play, she became quite upset and emotional about the whole thing.  Apparently she had been known to cry off stage because of this game.Janice was Playboy's Playmate of the Month for the May 1971 issue.
Anitra Ford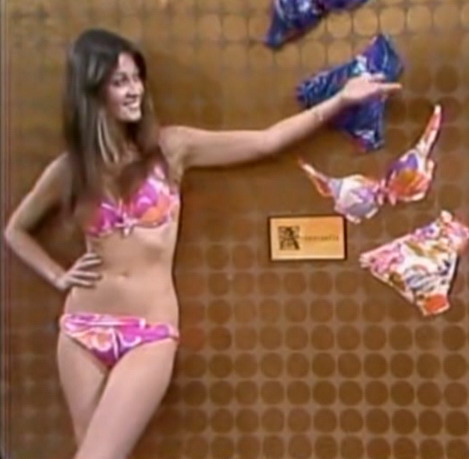 Anitra Ford was also one of the original Barker's Beauties starting in 1972. She was on the show until 1976 when she was replaced by Holly Hallstrom.
She was a stage actress from an early age and in the 70s, she started acting on television and B-movies including including Love Machine, The Big Bird Cage, Invasion of the Bee Girls, and The Longest Yard
She is also a photographer and a poet.  We don't really have too much to say about her really. She wasn't on The Price is Right as long as the other two showcased here.  She never posed for Playboy and she really hasn't done much since the 70s.
Dian Parkinson
Dian Parkinson started on The Price is Right in 1975 and stay on the show until 1993. She was on the show for 18 years which is the second longest any of Barker's Beauties, second only to Janice Pennington. It was rumored that part of the reason she left the show was an on-going feud with Janice. Officially, Bob announced that she was leaving the show to "pursue other interests".
Although it is true that she wasn't buddy-buddy with Janice, a bigger part of the reason became obvious in 1994 when Dian filed a lawsuit against Bob Barker. She claimed sexual harassment and that Bob had forced her into a three year sexual relationship with the threat of being fired from The Price is Right She gave up the claim in 1995 because it had become too costly and it had taken a toll on her health. Attorneys have been known to be expensive and I'm guessing Bob just had deeper pockets.
Dian appeared on the cover of Playboy in December 1991 and May 1993.
She also competed in beauty pageants. In 1965, Dian competed as Diana Batts in the Miss USA pageant where she was the fourth runner up. She won the 1965 Miss World USA contest and represented the US in the Miss World contest where she was the first runner up.
Comments
comments