Not to be confused with World Chocolate Day on February 9th or International Chocolate Day on September 13th, National Chocolate Day is on July 7th.  Yes, apparently chocolate is so beloved it gets three designated days each year.  Hmmmm…..   It isn't like we really need an excuse to eat chocolate.   There are many chocolate lovers out there, more women than men.
There are several categories of chocolate: White, Milk, Dark, Sweet, Semi-Sweet, Bittersweet, Unsweetened.  Each classification is based on content and purpose.
White chocolate: Chocolate made with cocoa butter, sugar, milk, emulsifier, vanilla and sometimes other flavorings.  White chocolate does not contain cocoa solids.
Milk chocolate: Sweet chocolate which normally contains 10-20% cocoa solids (which includes cocoa and cocoa butter) and more than 12%  milk solids.
Dark chocolate: Sweetened chocolate with high content of cocoa solids and no or very little milk.  It can contain up to 12% milk solids.
Sweet dark chocolate: Similar to semi-sweet chocolate, it usually contains 35-45% cocoa solids.
Semi-sweet chocolate: This is the classic dark baking chocolate which contains 40-62% cocoa solids.
Bittersweet chocolate: A dark sweetened chocolate which must contain at least 35% cocoa solids. Good quality bittersweet chocolate usually contains 60% to  85% cocoa solids depending on brand.
Unsweetened chocolate: A bitter chocolate which is only used for baking. The flavor is not good, so it is not suitable for eating. Use it only if  a recipe specifies 'unsweetened chocolate'. It contains almost 100% cocoa solids, about half of it might be fat (cocoa butter).
Because chocolate is so beloved, it can be found just about everywhere: candles, makeup, lotion, shampoo, clothing, and the list goes on.  The world loves chocolate.  (It might have something to do with the feel good chemicals that are released in the brain which chocolate is consumed.)
Chocolate is not the same everyone,  It is definitely different in each country.  Commercial U.S. chocolate is formulated with less milk solid, cream, and cocoa butter, which explains the taste differences between most European, Canadian, and U.S. chocolate.  European and Canadian chocolate will taste creamier and melt faster.  However, depending on the quality of the chocolate you are buying, U.S. chocolate can be just as creamy as European chocolate and low quality European and Canadian chocolate can be similar to standard U.S. chocolate, so if you are a connoisseur, choose your chocolate wisely.  Click on the image below to see a few fun facts about chocolate.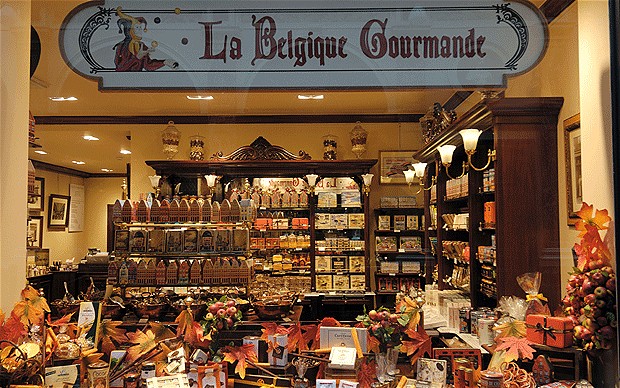 Comments
comments