Snowboarding in the Big Apple
Winter storm Juno dropped 26.8 inches of snow on the Big Apple and because of all the snow, a travel ban was imposed. In response, popular YouTube video producers Casey Neistat and Jesse Wellens, together with a team, turned New York snow-covered streets into a Snowboard Park. With tire chains on, the fun-loving YouTube filmmakers armed with cameras, a drone and a GoPro attacked the city that never sleeps, snowboarding and skiing leaving a wake of staggered and cheering fans.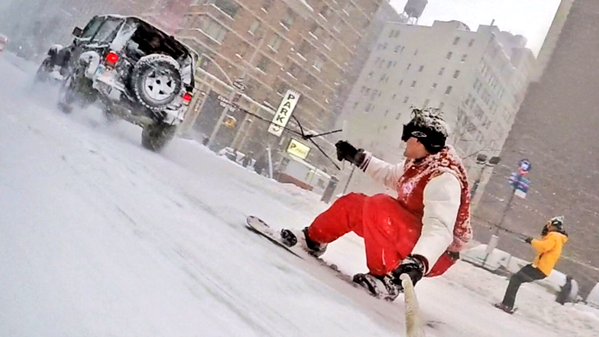 At one point the shindig seemed to be over when a patrol car arrived with sirens on and stopped them for a possible arrest. But realizing how awesome it was, the unidentified officer told them…
"Someone complained about you, so we're going to act like we're talking to you,"
"You guys are awesome," Neistat replies.
Footage of this amazing NYC Blizzard act resulted in a two-and-a-half-minute video with a perfect background song choice –Frank Sinatra's "New York, New York."
SNOWBOARDING WITH THE NYPD
Comments
comments